How to Deal with an Employee Who Has Committed Criminal Offenses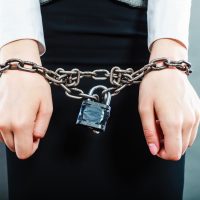 Employees who commit crimes put business owners and HR professionals in an undoubtedly awkward position. This is someone you share both a workplace and a professional relationship with; discovering that the individual has committed a criminal offense can have a profound impact on that relationship.
Understanding the origin of the crime and having a clear picture of who the employee is in a professional context can help you wade through the options and approaches you have available to you. No matter what you decide to do, the most important thing is that your decision is within the law.
Evaluate The Situation
Did this crime take place inside of the workplace, or on the employee's free time? These have distinctly different implications. A crime within the workplace will require a discussion within HR and management. If the crime is blatant, such as destruction of property, theft, or physical violence, you are obligated to contact the police.
Some offenses may not be obvious enough to deem criminal, particularly if your sector is healthcare or involves working with vulnerable customers, clients, or patients. If you aren't sure whether an action was morally wrong or criminally wrong, it's in your best interest to contact a lawyer for advice.
Crimes that occur outside of the workplace are subject to scrutiny, but you may not have a responsibility to speak with law enforcement. If the employee has already been arrested or questioned, there is no need for you to reach out to the police. Simply keep yourself available should your legal representative advise you to answer any questions.
Consider Disciplinary Action
If the criminal activity was egregious, call the police. If you aren't sure, follow the advice your lawyer has given you. If the crime occurred outside of work, you'll still need to decide what your next move will be regarding disciplinary action.
If there is an ongoing criminal investigation surrounding an employee, you are not required to pay the employee until the matter has been drawn to a close. You can suspend an employee without pay during this time while you wait for law enforcement to do their job. Your business may conduct its own investigation relating to the matter during this time, and limited information may be made available to you by law enforcement.
If the offense occurred outside of work, you may not be able to take any disciplinary action. This is especially true if the offense cannot reasonably be linked to workplace misconduct.
Determine the Fate of the Employee
If the offense was egregious and it occurred in the workplace, you may be able to dismiss the employee. If the employee stole from you, assaulted a coworker, or used your property to conduct a criminal operation, you're in the clear to fire this employee.
For crimes that occurred outside of the workplace, determining the fate of an employee will require a little more consideration. It is important to consider how the nature of the offense affects the trustworthiness of the employee, or the employee's ability to do his or her job. For example, a shoplifting offense may be reasonable grounds to release a retail employee, but not enough to release a file clerk.
You also need to consider the reputation of your business. Employees accused of high profile crimes, particularly murder or sex crimes, may reflect poorly on your company. It's likely reasonable to fire employees who pose a significant risk to the public's perception of your company. You can ultimately fire an employee for any reason you desire, as long as it cannot be considered wrongful termination.
In cases where you're not sure what your rights and options are, it never hurts to contact an attorney. You don't want to commit a crime as an employer when attempting to deal with the crimes of an employee. It's always a great idea to assure your own protection.
The following two tabs change content below.
Lucy Taylor is a legal consultant from Sydney, Australia, working at
LY Lawyers
– experts in the field of criminal law. Lucy is also a staunch supporter of self-improvement, believing that it is a key to success in one's career.
Latest posts by Lucy Taylor (see all)
Donate To Help Others
Donate to Doctors Without Borders
Check This Offer Out