8 Creative Recruitment Strategies to Find the Best Talent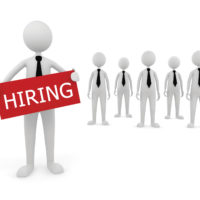 Even in this day and age of digital technology and automation, finding good, experienced and especially right- fit people sit atop the list of many companies. Every day recruiters receive thousands of job applications. With efficiency, they go through resumes, school records and certifications.
But it's never an easy task when you're trying to land the best talent for your organization. It can be a competitive industry where they could already be working for your competitor.
If you want to improve your prospects of recruiting the best people for your business, you may have to resort to more creative, non-traditional methods.
Here are 8 creative recruitment strategies you can use to find the best talent out there:
Set Up an Open House – An Open House is an event designed to separate the wheat from the chaff so to speak. It is an effective way of getting candidates and applicants to self- evaluate their qualifications and see if they are right fit for your business.
If your job post elicited over 1,000 respondents, invite them to an Open House event. Inform all candidates what to expect:
Review of all required documentation.
Speed interviews with recruiting and hiring managers and top officers.
On- the- spot testing
Panel interviews
You may be surprised that fewer than half of all applicants will attend. Those who do show up are the ones with a competitive spirit and the confidence to put their abilities to the test.
Focus on Group Interactions – Company culture is all the rage today with Facebook, Zappos and the Virgin Group at the forefront of this recruitment revolution.
The Curriculum Vitae and individual interviews are not enough to give you a good perspective on the candidate's level of corporate right- fitness. But place them in an environment where they have to interact with current employees or managers and you'll take them out of their comfort zone.
Group interactions are a less- formal take on panel interviews. Each candidate is brought in to a round- table discussion that covers everything under the sun.
These topics could include work experience and philosophy, politics, personal beliefs, relationships and other subject matters that place the candidate in a different light.
Hiring the best people isn't only about finding those with the highest levels of proficiencies and competencies. You need to recruit people who are aligned with company values and subscribe to similar ideals.
Pursue Your Ideal Candidates – Employees who have amassed tenure and experienced promotion are dream candidates. They have been proven to be productive and exemplary in the conduct of their duties and obligations to the company.
HR people often scour online job networks and social media networks such as LinkedIn to find candidates whose profiles appear to fit the job description.
If you want to land the best candidates, not only do you pursue with abandon but you have to show how much you want them onboard your company.
Send them a personalized message from the CEO or top officer
Invite them for lunch or dinner or coffee at a prestigious restaurant
Schedule a visit to their homes and invite even the parents for lunch or dinner
Like an All- Star caliber player, you have to make the best candidates feel important and truly special. Not only will they appreciate the effort you put in recruiting them but it will provide extra motivation to give you their best if they agree to join your company.
Apply "Out- of- the- Box" Talent Search Strategies – Job fairs, networking conventions and trade shows are not the only places to find talent. Talent is not localized; they can be anywhere, everywhere at any given time and place.
For example, your company is in need to great customer support officers. Come up with a summary of qualifications and discuss the list with your recruitment officers. Identify places where people with these skills frequent such as: coffee shops, restaurants, retail stores and fitness centers.
Instruct your recruitment people to frequent these places and observe which candidates exhibit most of the required skills and competencies. Once a candidate has been identified, the recruitment officer should discreetly introduce himself and extend an invitation for an interview. A calling card with a website address and contact details should be clearly indicated.
HR people are looking past technical and fundamental work competencies. Many are prioritizing attitude, personality and have identified specific behavioral traits that best fit company culture.
The underlying belief is that anyone with passion, commitment and dedication can be trained to become a productive employee. But if your behavioral patterns are destructive to the culture, it will not matter if you have the highest marks or certifications. Your poor work attitude will hinder team productivity.
Customize Job Fair Searches – Job fairs are the usual venue for recruitment. But often, the talent levels in these events are diluted. These are usually attended by those who have been laid off or unable to find a job.
A better approach would be to attend events specific to your job search. For example, if you are looking for a graphic designer, be on the lookout for events or forums that cater for those in the graphic design field.
Online platforms such as MeetUp are good sources of information on job specific networking events. You can also use MeetUp to organize your own group of like- minded recruiters and collaborate on job searches.
You can join focus groups in various social media networks particularly LinkedIn to get information on when job specific events are taking place.
Maximize the Power of Video – Written job posts on social media or online job platforms are standard procedure for finding talent but they won't make you stand out.
Videos are probably the best vehicle for delivering content. It uses sight and sound to transfer a large volume of information at a short amount of time.
You can upload a short video on YouTube showing how it is to work in your business. Or you can set up a podcast which shares the story of how your company started; your experience and type of culture that thrives in the workplace.
This is often called a "jobcast" and it can encourage greater engagement than traditional job posting avenues.
Use Online Marketing Strategies – There are many networks, websites and online platforms you can use that will give you a higher success rate of finding the best people than sifting through resumes.
As previously discussed, LinkedIn is an effective tool in finding and vetting experienced people. You can reach out to them via invitation, through a shared contact or by joining focus groups on HR and those specific to your job search.
Twitter and Facebook are great for uncovering who the candidates are outside the formality of the work place. Social media lets people's guard down and gives you a glimpse of how they think, form opinions and interact with other people.
Blog about your company; write about what it's like to work for you, share your business philosophies, recent developments and major accomplishments. Distribute content through social media and link it back to your website.
A study showed that companies that recruited via social media vastly improved the quality of employees hired. An estimated 94% of recruitment companies now use social media as one of their major tools for finding the best people in the business.
Review Your Past Employees File – Sometimes in order to move forward you have to go back to your past… especially when it comes to finding talent.
You may have had a few diamonds in the rough and late bloomers among your staff years ago. They flew under the radar but still fit the company culture. Time has given them the experience, skill and expertise in their new careers. Or you may have had brilliant employees who had to cut their careers short to attend to personal reasons.
Reach out to them and find out if they would like to go to round 2 with your company. If they enjoyed round 1, they may be enticed to re-join you. But be prepared to sweeten the deal especially for those who have acquired higher positions or better compensation with their current employers.
The saying, "If you want something so bad you have to go get it" applies also in recruitment. You need good people to stay ahead of the competition. And it is not always the brightest that gets the job done.
The challenge is to find people with substance; those with talent and the intangible qualities that make them the perfect fit for your company culture.
HR is no longer about resumes, school records and certifications. It's about finding people who are willing to grow a career with your company.
The following two tabs change content below.
Felix works with the outsourcing company called
SmartVirtualAssistant
. He enjoys writing about recruiting, marketing and entrepreneurship.
Latest posts by Felix Tarcomnicu (see all)
Donate To Help Others
Donate to Doctors Without Borders
Check This Offer Out