Corporate Goal Setting: How to Create Your Top Company OKRs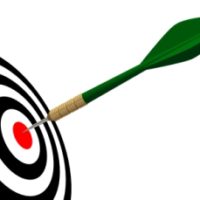 Many companies are using the highly effective goal setting framework Objectives and Key Results (OKRs) to create, track, and measure their goals for company-wide alignment. By creating clarity and transparency for each and every goal throughout the organization, you can give employees a direct line of sight into the company priorities, which will lead to increased focus and engagement.
Yet, setting Objectives for the entire organization is challenging. With so many factors to consider, executives often struggle to figure out where to begin. While Atiim.com has an extensive list of departmental and corporate OKR examples you can review at your convenience, we've also provided a list of best practices for setting company goals below, which you can begin using right away.
Use SMART Goals
OKRs naturally fall under SMART goal criteria: They must be Specific, Measurable, Aligned, Relevant, and Time-bound in order to be successful. While it's important for departmental, team, and individual OKRs to be a template of SMART goals, it's fundamentally critical for your top corporate Objectives to align with this framework. Otherwise, they'll be unclear and lose focus as they're cascaded throughout the organization.
Think Long & Short Term
Your top-level Objectives should support the long-term vision you have for your company. Yet, a common mistake many executives make is having goals that are too broad or far into the future. To make goals more time-bound, specific, and thus, achievable, it may be helpful to start with a broad vision then narrow your focus. For instance, think about where you want your company to be in 5 years. Then, consider what you can do in the next year to get there. Finally, ask yourself what must be done in the upcoming quarter to get to that point.
Understand Your Strengths & Weaknesses
If you're already performing SWOT analyses, you can use your findings to your advantage by incorporating them into your corporate goals. For anyone unfamiliar with the SWOT method, it refers to your Strengths, Weaknesses, Opportunities, and Threats. You can then figure out how to leverage your company's top strengths to excel in your industry, even in the face of possible threats. Factor this information into your corporate OKRs, and you'll have a great starting point for the rest of your teams' goals.
Consider Your Contributors
Once you've come up with some possibilities for top company goals, ask yourself: Who will contribute to the success of these Objectives? If you can identify any teams or departments who won't be able to offer any contributions to the goal's success, it's not really a top company Objective. (It could, however, be an Objective for a specific team or department, which might contribute to your top company Objectives). In order for an OKR to be a top company goal, everyone must be able to contribute toward its success.
Receive Employees' Input
Lastly, OKRs are intended to be a collaborative framework. Many executives feel responsible for writing top company goals on their own, but it's always a good idea to get input from employees. Their perspectives may provide valuable insights, and even if you can't use their input right now, it's always helpful to have more feedback than less from your people.
Author's Biography: 
Zorian is CEO of Atiim Inc. (i.e. A-team), a SaaS company that makes sales and marketing teams more productive. Previously he was VP of Sales & Marketing at InsightSquared and has been a speaker at many industry conferences, including the American Association of Inside Sales Professionals (AA-ISP). He has also contributed to WSJ Accelerators Blog, Top Sales World Magazine and the Salesforce.com Blog, among others. He holds an MBA from Harvard Business School.
The following two tabs change content below.
Tresha D. Moreland, MBA, MS, FACHE, SPHR, SSBBP, founder of HR C-Suite, is an HR thought leader in Human Resource Strategic Management. She has held key human resource leadership roles for over 20 years in multiple industries most recently a senior vice president in the healthcare industry. Tresha is the founder and publisher of HR C-Suite (www.hrcsuite.com). HR C-Suite is a game changer results-based HR strategy website. It is a first-of-it's-kind site that organizes HR strategy based on desired business result. She has developed a business philosophy of integrating human resources with business strategy, thus creating a hybrid HR leadership approach. This approach enables the leveraging human resources to achieve business results.
Latest posts by Tresha Moreland (see all)
Donate To Help Others
Donate to Doctors Without Borders
Check This Offer Out