Chatbots in HR: Embracing the Conversational Revolution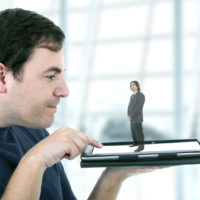 It has been a hard one to miss.
Chatbots have popped up everywhere. It is the tech trend of the year. The conversational revolution has swept every department, including human resources.
What does HR stand to gain from chatbots? Taking a data-focused approach, we will see why embracing this new technology is not only the way forward, it is also one of the best things to happen to HR.
What are chatbots?
And, why should you care?
Fair questions. In case you have not heard about them yet, chatbots are automated computer programs that allow humans to converse with a machine. Chatbots are programmed to handle all sorts of interactions, from assisting sales on an e-commerce website to bringing your favourite brand character to life.
Chatbots are conversational. This means we get to interact with them (often via text, sometimes via voice) as we would with another human; with real sentences instead of command lines and computer code.
You should care because chatbots are spreading everywhere. Businesses, as often, are on the forefront of this revolution. As an HR representative or an executive at your company, you must know what these automated conversational programs can help you achieve.
How will chatbots help HR?
HR stands to win on many fronts. Most businesses will seek to implement the new chatbot technology in a department they can trust and contain, and is company-focused. HR is the best possible candidate.
As such, chatbots will help HR in three main ways:
Giving HR staff their time back,
Offering employees the love and care they demand, and,
Centralising company information.
Let's tackle each of these in turn.
Giving HR staff their time back
HR is always busy. There is no downtime when you work in HR. Unlike the sales team that may have a quota to reach or the customer support team that can relax when no enquiries land on their desk; HR is always working.
This makes an HR staff time extremely valuable.
Recent research showed HR employees spend between 30% to 50% of their time answering repetitive questions from the workforce.
How many days off do I have left? What is our parental leave policy? Whom do I speak to about grievance? All these questions and more come up frequently. Often, they are easily responded as their answers can be found in the employee handbook or the self-serve HR platform.
The HR department is destined to answer to these questions day in day out (who wants to spend time reading an employee handbook when they can just email or call HR, right?). A chatbot can take these repetitive questions and answer them automatically, 24/7. By offering a conversational alternative to your employees, you give HR reps 30%-50% of their time back.
Offering the love and care they demand
Times change. Consumers today expect everything immediately. No one likes to wait. We hate it.
As we have seen above, HR is overwhelmed with queries. As a consequence, things do not get done instantly. The sales person will have to wait for an answer about their annual leave. The new employee will have to wait for their proper onboarding session. A consumer can go online to buy something and have it at their front door within hours. No wonder studies show employees feel unloved and uncared for when it takes days to get a response from their own company.
How can chatbots help with this? By being an always online helper. Instead of sending an email to HR with their question, the sales person asks the chatbot. They will not be put on hold or made to wait three days for an answer. They get an accurate answer there and then.
For better or worse, as consumers, we expect instantaneity in our lives. Chatbots give employees a chance to be listened to.
Centralizing all company information
One employee handbook. One self-serve HR platform. Another self-serve HR platform (the old one we had to move from because John from the board of directors did not like it). 43 PDFs on the HR team's Dropbox. Paper filed in large binders on the 4th floor of the building.
Information is everywhere. To access the right bit, you must find the right person to talk to. It is a mess. A chatbot can help.
Imagine your HR chatbots as a computer in the corner of a room. Feed it all your HR-related documents. Let it compute it for a little while (beep boop), and voila, your know-it-all HR chatbot is born. A central hub for all the information anyone might need.
Want something even better? Instead of feeding it documents, get a geek to feed it connections to the place the documents are created (APIs, and other geeky words). This way, not only does your chatbot know everything there is to know, but it will also automatically be up-to-date with the latest policy changes.
Wrapping it up
As we have seen, HR stands to gain a lot from chatbot automation. We can expect this technology adoption to come from inside the companies, starting with human resources.
Now you are prepared for it. What will your HR chatbot do for you?
The following two tabs change content below.
Alex Debecker is the founder and CGO of
ubisend.com
. ubisend delivers bespoke AI-driven sales, service, and HR chatbots that enable companies to have effective two-way conversations at scale.
Latest posts by Alex Debecker (see all)
Donate To Help Others
Donate to Doctors Without Borders
Check This Offer Out