Top 4 Job Seeking Methods for C-Level Executives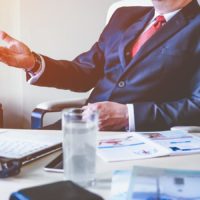 A job searching process of an executive level is known to have its peculiarities. It is not a surprise as C-level jobs are considered to be rare and quite specific. No wonder to find one your tactics has to be unconventional and highly effective. Before you start developing your personal job search strategy, it might be a good idea to check these job hunting approaches selected specifically for executive workers.
Recruiting Firms
Using a help of a recruiter is a common and proven method of finding a job. It has its advantages as it seems that now you may rely on someone who will represent you to the employers and a job will come easily. In fact, it is partially true. A recruiter is likely to care more about companies' needs than yours as his salary is paid by them. You also need to be ready to compete, because usually headhunters are supposed to find a few candidates for a vacancy.
The best solution is to convince a recruiter that you are a catch by showing your bright sides and do not reveal him anything you would not want your future employer to know.
Networking
Not all the vacancies are advertised and the only way to find out about them is networking. Connections can not only lead you to the hidden possibilities but also it will allow you to have a great reference from someone who thinks you are trustworthy enough to recommend you for the job.
Despite all the advantages, networking is good when it is an additional technique. If you use only this method, it might take too long before reaching a goal. Another peculiarity is that could be awkward for executives to ask about vacancies because they got used to having everything under control and to be leaders. It is better to do it like consulting or casual facts exchange, not direct asking for a job.
Consulting
It is well-known that a skilled executive can improve and develop any business. If you are ready to help a new firm with great perspectives or a start-up, you might think about consulting. It gives a lot of flexibility as you can work as many hours as you wish and from any place where there is the Internet.
It does not mean you are limited only by starting or poor functioning companies. The employers from successful firms usually prefer it too, because working with you part-time gives an opportunity to get to know you before hiring full time. It is also necessary to advertise your business and put some effort into marketing. Finding first clients might take some time, but consulting is definitely worth trying.
Direct Offer
The executives are usually initiative, determined and get used to being in charge. That is why sometimes it is hard for them to send applications and just wait for a job to come. To take the situation under your control, you might choose a few companies you are interested in and send direct letters offering your service. It might sound shocking, but there is some sense in it.
The executive job vacancies are usually hidden and are not announced. If the company did not inform about the vacant position, it does not mean they do not search for the employees. The experience proves that this method works and saves a lot of time.
The following two tabs change content below.
Tresha D. Moreland, MBA, MS, FACHE, SPHR, SSBBP, founder of HR C-Suite, is an HR thought leader in Human Resource Strategic Management. She has held key human resource leadership roles for over 20 years in multiple industries most recently a senior vice president in the healthcare industry. Tresha is the founder and publisher of HR C-Suite (www.hrcsuite.com). HR C-Suite is a game changer results-based HR strategy website. It is a first-of-it's-kind site that organizes HR strategy based on desired business result. She has developed a business philosophy of integrating human resources with business strategy, thus creating a hybrid HR leadership approach. This approach enables the leveraging human resources to achieve business results.
Latest posts by Tresha Moreland (see all)
Donate To Help Others
Donate to Doctors Without Borders
Check This Offer Out