Book Review: Winning Big In HR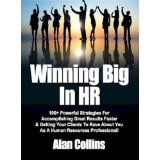 Overview: 
Collins is 'nudging' those of us in human resources careers, to fight for what's right; to toot our own horns, and to "sell" our ideas.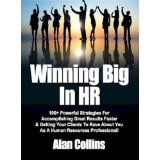 Alan Collins has authored several other HR-based books, and is a sough-after speaker and consultant.  His background includes 8 years as VP Human Resources at PepsiCo, and 25 years of HR experience with various Fortune 100 companies.  It appears one of his proudest achievements is the Founding the 'Bryan A. Collins Scholarship Program.'
Purpose:
The audience is either those already in, or those interested in starting a career in HR. Written in an easy-to-read format, he presents us with 118 bite-sized stories of career advice.  From #1 ("Step up and Seize Opportunities") to one of my favorites, #118 ("Leave a Legacy"), he tells passionate stories of failure and successes, each one meant to help HR-types question how and why we do the same thing each day.
Evaluation:
Collins tells us, on page 73, that "HR is Selling;" great HR executives know how to SELL their HR ideas.  That one hit home; I know I can do a better job of that.  Page 103, we're advised to "Ask for it." Another one that's a bit personal, I know I've left good ideas on the table, because I didn't ASK with the right information.  On page 120, he offers what I believe is good advice for ANY manager – seek out and embrace the power of candid feedback.  Yes, it can deflate us, but I agree that is truly what will ultimately make us better; better in our profession, and better in the other areas of our lives. He wraps up the manuscript by asking those in HR to build on our passions and our strengths.  Collins is a believer in Donald Clifton's research, "StrengthsFinder 2.0" and wants us to stop wasting time trying to overcome our weaknesses.  Finally, Alan uses the concept you've probably heard from others; be a "Servant Leader."  (The book, by Ken Blanchard and Mark Miller, called "The Secret", explains Servant Leadership in an entertaining story of growth.)
Summary:
"Winning Big In HR", by Alan Collins, is a solid book.  Throughout, he gives us the needed kick in the rear-end.  In his writings, you feel Collins is pulling for you;
he wants all of us to succeed. It's a worthwhile, enjoyable, and useful book.  He relates to both my business life and my personal life in his writings.
If I did such a thing, I would award him 'two thumbs-up.'
On a personal note, I located Mr. Collins on LinkedIn, and sent him a note.  He not only took the time to provide a written response, he allowed me to speak with him directly, about an issue that's a passion to both of us; leaving a legacy.  His is the 'Bryan A. Collins Scholarship Program' and mine is the 'Steven L. Lovig Endowed Scholarship' at Kennesaw State University.
Book Information
Title:                                                   Winning Big In HR
Author(s):                                         Alan Collins
Publisher:                                         Success in HR Publishing, Chicago, IL
Date of Publication:                       2012
Number of pages:                           135
The following two tabs change content below.

Steve Lovig, PHR, MS
Steve Lovig is a VP of HR. He has a Master's Degree in Human Resources Management and is PHR and Green-Belt certified. Mr. Lovig has 15+ years of experience in human resources. He is passionate about the profession, and about how HR can help build and maintain organizations. Steve's "specialty" is to address and resolve conflicts, especially management / employee issues.

Latest posts by Steve Lovig, PHR, MS (see all)
Donate To Help Others
Donate to Doctors Without Borders
Check This Offer Out