Big Data invades HR: 4 Ways To Make The Most Out Of It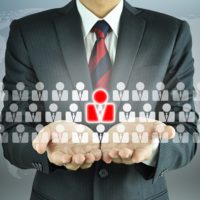 You might know "Big Data" as the large quantities of complex data that can be analyzed for the benefit of your organizations. However, the conceptualization of Big Data changes dependent upon its application. This can vary widely from business to business, causing some confusion on what it is and how to use it. Big Data can be ambiguous, but it doesn't have to be intimidating, especially in HR.
In the human resources sphere, the datasets can certainly be impressive, but the emphasis is on the results. Advancements in HR tech allow new ways of tracking, storing, and manipulating employee performance data. Modern thinking has led to predictive maintenance based on past data analysis and real-time data. HR teams now have the tools to make better decisions based on data rather than gut feeling.
Why Big Data Matters to you
Offers a "big picture"
Provides the opportunity for identification and recognition of top performers
Opens up the path to identifying specific areas that need improved
Can increase employee retention
Shows specific engagement tactics that are most successful
Optimization of training and onboarding is possible
Recruitment process costs are reduced
Time-to-hire is shortened
Better hires are made
Talent pools are filled effectively
Best Practices for Implementation Big Data in Hiring
To see any benefit from Big Data, you need to learn how to use it effectively. Simply gathering random data isn't enough. Here are three best practices to follow:
1—Get the right tools
In a fast-paced field such as HR, it helps to have tools that streamline certain processes. This doesn't mean that everything has to involve automation. It's not feasible to have tons of tools for hiring, so getting a few that do the imperative data-crunching is crucial. One exemplar, ATS (applicant tracking systems), is seeing a dramatic increase in use. Once perceived as clunky systems, modernized ATS are hitting the market with all of the features necessary for the hiring process. In some cases, data and analytics are built into the platform. Keeping the data organized in one place is no longer a struggle. And it is imperative to the success of using the data practically down the line.
2—Track the right information
HR tech can make it easy to want to track anything and everything. However, this will only make it difficult to compile the mass amounts of data into something that can be of use to the team. When deciding on what information to track, you refer to this checklist from us at Recruitee:
Time-to-hire per job opening
Each employee's performance
Candidate sources' performance
Secure and encrypted servers
Data export
Some other analytics to consider include the following:
Common traits of successful hires
Effectiveness of engagement motivation tactics
Usefulness of tech
3—Actually use analysis to plan future hiring strategy
This may seem obvious, but it often gets pushed aside. Discuss the results with the whole team and pick the significant findings. Here are a few examples of what data can be used to improve the hiring process:
Quantified resources dedicated to tasks show time-saving opportunities
Quarterly employee surveys show which motivating factors to focus on
Candidate characteristic surveys give something to look back on after assessing a new hire's performance. These characteristics can be tracked as either a positive or negative to the company.
Time-to-hire gives a broad look at how well your time-saving tactics are working. If it's not improving, it's time to look back at how your resources are being spent and any obstacles that come along the way.
The point of Big Data isn't to bombard employees' personal or professional space by tracking their every move. However, it is crucial to stay abreast of Big Data trends and use simple metrics that can be analyzed quickly in order to keep the hiring process streamlined.
The following two tabs change content below.
Tresha D. Moreland, MBA, MS, FACHE, SPHR, SSBBP, founder of HR C-Suite, is an HR thought leader in Human Resource Strategic Management. She has held key human resource leadership roles for over 20 years in multiple industries most recently a senior vice president in the healthcare industry. Tresha is the founder and publisher of HR C-Suite (www.hrcsuite.com). HR C-Suite is a game changer results-based HR strategy website. It is a first-of-it's-kind site that organizes HR strategy based on desired business result. She has developed a business philosophy of integrating human resources with business strategy, thus creating a hybrid HR leadership approach. This approach enables the leveraging human resources to achieve business results.
Latest posts by Tresha Moreland (see all)
Donate To Help Others
Donate to Doctors Without Borders
Check This Offer Out