The Impact of AI on Human Resources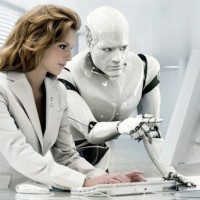 Once Fire was discovered, its usage escalated by its implementation in diverse fields of cooking, illumination, tool production and other myriad fields. The case has been same with Artificial Intelligence (AI).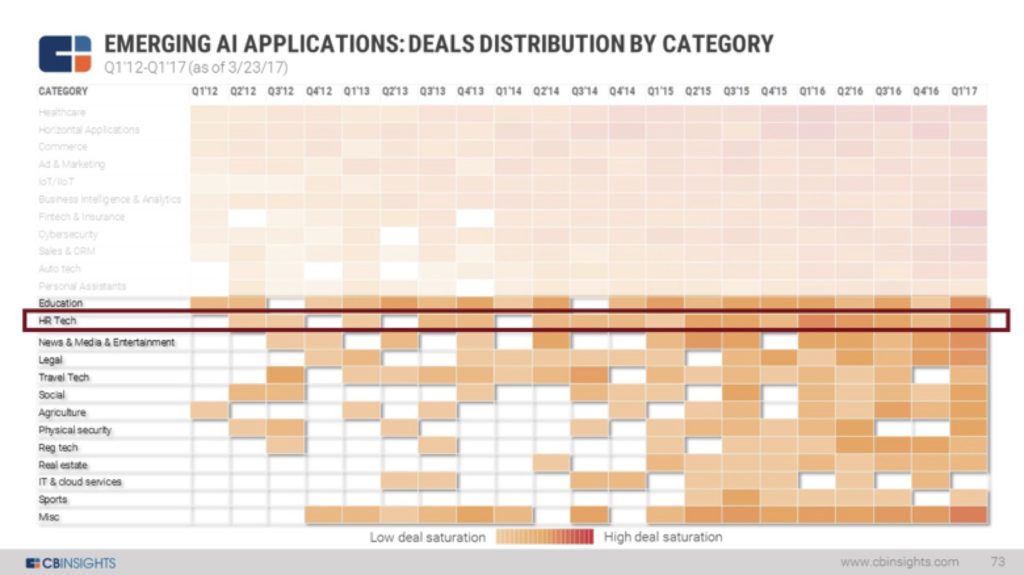 The above research by CBInsights portrays the scenario for the adoption of AI in various verticals. With a large amount of data available in the fields of IoT, Commerce and Business Intelligence; they were the first ones to be disrupted by AI. Recently, AI has set its eyes on HR Tech.
Clustree, an AI based HR Tech Startup raised $7 million in recent funding. It aims to free the HR community of Human Biases and Stereotyping. Some other Venture Capital backed AI Companies in HR Tech to be funded in 2015-2017 YTD are hiQ Labs, Restless Bandit, Beamery, and SwitchTech.
Bénédicte de Raphélis Soissan, Clustree CEO believes that "Stereotypes are fast to build but take a long time to erode - that is why they exist. Clustree is here to switch that."
What does AI have to offer to the HR Market?
The marketplace for data availability of HR community is the existing external HR Data, internal client HR data and the feedback from Employees and HR community. All these data combined, make a large pool of data for AI refurbishment.
With the available 'Big' Data; Internet assistants, Chatbots and Computer algorithms act as an interface between the untapped data and the workforce. These Assistants provide speed in responses and consistency of communication.
These Assistants need to be trained only once; unlike HR individuals (You train them, and then set them free).
Chatbots and Assistants provide an inhuman immediacy. Round the clock availability (machines don't sleep) and Around the world accessibility (the ubiquitous internet) make them the most efficient Assistants.
People Analytics helps HR Managers remain informed about the shape of the Employee base. These Analytics direct the course of preemptive actions for employees. AI makes the preemptive actions for employee attrition easy to execute.
AI ensures that the smartphone provided to your employees favors you and not your competitors. It doesn't help if the smartphone provided to employees keeps notifying them of other jobs available for them. With AI, HR Software are able to track the time spent on career website, map recent new connections and generate insights about why and when employees quit.
With AI, Talent acquisition is executed with a priority similar to that of customer acquisition. Verticals like CRM and Marketing for Talent Acquisition helps attract the quality crowd and maintain it.
It reduces the task of going through individual resumes; instead, it provides a list of best fits for the given position. Detailed and easy background checks for all applicants reduce workload for HR community.
By adopting machine learning, Employee retention rate is also increased. With Machine learning, it becomes easy to study patterns of employee behavior and improve upon the lacking aspects.
All in all, AI is here to stay and disrupt the HR Market. To benefit from this marvelous disruption, HR Market needs to be abreast with the employee facilities and manager needs. Prioritizing the features amongst many will determine if the Software is here to stay or sway!
The following two tabs change content below.

Karshi Kapadia, a Grammar Republican with Analogies and Figures of Speech under her sleeves. She loves anything that tickles her creative bone. She currently works with
SoftwareSuggest
as a content analyst.

Latest posts by Karshi Kapadia (see all)
Donate To Help Others
Donate to Doctors Without Borders
Check This Offer Out