Effective Tips For A Fresh Start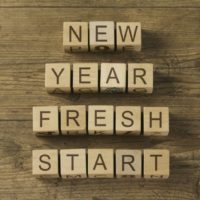 Are you starting over fresh this New Year? Beginning 2017 with a clean slate is certainly a trending topic for many, and it may be just what you need to achieve your goals.
Whether taking on new health and fitness goals or planning a career move, this New Year can certainly bring about a happier, healthier, and more successful you.
Maybe starting fresh to have less stress is on your New Year to do list? Or maybe you have a few old goals that need fine-tuning? Whatever your reason for wiping the slate clean, know you are not alone.
In fact, more than 100 million Americans are planning some big life changes for 2017, says Erik Larson of Forbes.
How will you begin fresh this New Year? The following personal and professional tips will serve as a powerful pivotal point in your life. Be bold!
New Year, New You, New Career
You may have a new career in mind this New Year. And 26 percent of Americans are going to join you in the job hunt in 2017, according to a survey by Dale Carnegie Training.
However, with one in four people searching for a new job or career, it is essential to have your career goals planned out to absolute perfection.
Maureen Henderson of Forbes suggests that, "There is no better time to lay the groundwork for making the big move than right now."
Steps to consider for your New Year, new career hunt include . . .
Reflecting on your previous year's accomplishments.
Ensuring your resume and online professional profiles are up to date.
Researching trends in your industry to know your market value.
Developing a job wish list of companies you're interested in joining.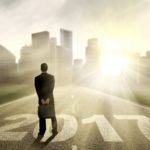 Make the Most of Education Goals this New Year
There is a wealth of reasons to head back to the classroom in 2017. Maybe you want to finally complete that degree, improve salary with a Master's program, or simply begin your higher education journey for future opportunities.
Whichever goal you aim at accomplishing this New Year, you want to make the most of education to grow and succeed in a powerful way.
The best degrees for a salary boost with great job growth potential in 2017 are . . .
Finance & Economics: Salary begins at $55,700 with an estimated 15.5 percent 10-year job growth.
Management Information Systems: Salary begins at $56,800 with an estimated 10-year job growth of 16 percent.
Software Engineering: Salary begins at $62,500 with an estimated 7 percent 10-year job growth.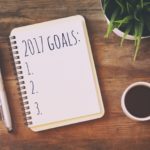 If your New Year target is to achieve a Master's, there are certainly sets of specific MBA programs that offer the best boost in salary.
For example, MBA majors in Strategy, Entrepreneurship, Corporate Finance, and Finance and Economics, are among the highest paying career fields for MBAs, according to PayScale.
Make Your Health and Fitness Resolutions a Priority
The most challenging New Year resolutions to achieve are of the health and fitness variety. Career goals and advancing your academic prowess are important, but having a healthy balance will keep you sharp at the office or in the classroom.
If you made a New Year resolution to get fit and healthy, knowing where to begin to reach those fitness goals can be tough. This is especially difficult if a busy work schedule conflicts with gym time.
"It's a common practice, but most people end up giving up on their resolutions at some point in the year, often as soon as February," says Top Fitness Magazine.
Burning out at the gym before reaching your health and fitness goals is a common worry. However, there are numerous, excellent health and fitness tips you can use to keep that "get fit" resolution.
Make your New Year health and fitness goals a reality by . . .
Being specific about the goals you wish to achieve for the year.
Creating mini-goals to achieve weekly and monthly setting benchmarks that boost motivation to continue.
Setting attainable goals with a realistic timeframe.
Writing your goals down in a fitness journal to look back on for inspiration.
Discovering what motivates you every day, week, and month.
Rewarding yourself every week to keep those healthy habits moving in the right direction.
Wiping that slate clean in 2017 is a fantastic idea. You can develop healthier habits in both your personal and professional life.
Achieve career and education goals, and boost your daily energy by starting fresh this New Year. You may find the career rock star you have known was inside you all along.
The following two tabs change content below.
Tresha D. Moreland, MBA, MS, FACHE, SPHR, SSBBP, founder of HR C-Suite, is an HR thought leader in Human Resource Strategic Management. She has held key human resource leadership roles for over 20 years in multiple industries most recently a senior vice president in the healthcare industry. Tresha is the founder and publisher of HR C-Suite (www.hrcsuite.com). HR C-Suite is a game changer results-based HR strategy website. It is a first-of-it's-kind site that organizes HR strategy based on desired business result. She has developed a business philosophy of integrating human resources with business strategy, thus creating a hybrid HR leadership approach. This approach enables the leveraging human resources to achieve business results.
Latest posts by Tresha Moreland (see all)
Donate To Help Others
Donate to Doctors Without Borders
Check This Offer Out